Newsletter
Pastors Corner
Wow, another year has come. We are in our new facility and everything is going great. A very big thank you to St. James AME Church for taking us in and being so helpful. We are blessed that their ministry wants to help ours.
This year is theme for the Academy is Extreme Prayer We are definitely a praying school, but this year I want to turn up the volume and move into an extreme mode of prayer.
Psalms 65:2 tells us, You who answer prayer, to you all people will come.
Colossians 4:2 tells us, Further instructions devote yourselves to prayer being watchful and thankful.
And in Romans 15:22, Be joyful in hope, patient in affliction, faithful in prayer.
Over the years Faith Christian Academy has come a long way. Our ministry is about helping students achieve their goals, helping the whole family and God has given us the opportunity to do just that in many different ways. I pray that we are meeting those goals/needs and meeting the expectations that God has on us.
That being said I am looking for some prayer warriors that are willing to come out and pray over each students desk, classrooms, staff members, offices and the school as a whole. There is power in prayer.
For anyone who is interested I am testing the waters to see who would like to go through a bible study with me, the Purpose Driven Life (What on Earth Am I Here for) by Rick Warren. I am hoping to start it the first week of October, so if you are interested, please let me know. It will be a very exciting study and I know everyone who participates will be blessed.
As always, the Staff and I want to thank you for entrusting your students to us, we do not take this assignment lightly.
Finally, if anyone has any questions or concerns please bring them to me, my door is always open.
God bless you and your family,
Pastor Paul.
------------------------------------------------------------------------------------------------------------------------------------------------------------------------------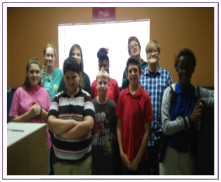 Returning Parents
If you have already paid your re-registration fee, we would like to thank you at this time. If you have not, please contact the front office and do so, as soon as possible. The fee is $50.
Dress Code
Every Friday we have a Dress Down Day. If your child wishes not to wear the school uniform that day, it will be $1 for shirts and $1 for pants. All the money goes toward the end of the year field trip for your child, each time he/she pays for it.
Keeping the lines of communication open
We are so blessed to have the excellent teaching staff God has provided for us this year. It is evident that our teachers are true co-laborers in this ministry with us and we have every confidence in their abilities and discretion.
Your childs teacher will always be the best person to contact in case you have a question about your childs learning. In the event that you have an issue, please do not hesitate to contact the school and schedule a conference. It is of the utmost importance that we are on the same page concerning your childs education. Appointments are available before and after school hours.
If you think you need further assistance, contact the front office and schedule a conference with Mr. or Mrs. St. Louis. We will work very hard to solve your problem or any issues you may have.
We are grateful that you have entrusted us with your childs education.
A couple of Reminders
Updated info
Has your address, cell phone or e-mail address changed recently? If so. Please stop by the front office and update your information. It is imperative that we have the current means to contact you.
Over the Counter Medicine
Also, if you allow your child to have OTC medicine, we ask that you provide us with a 20 count bottle of Tylenol, Motrin or Pepto Bismol with their name on it to ensure that they will have it available throughout the year.
Be on time!
Remember that school starts at 8:30am sharp, and is out at 2:45pm. Make sure your child is on time in the morning and that he/she is hot left waiting for you when school is over.
A Sincere Thank You
We are very pleased and would like to thank you for all the parents who already have made donations to the school already this year. Your generosity has not gone unnoticed. Some have given financially, while others have given their time and talents. We are so grateful and blessed to have so many parents lending us a hand this year. Thank you, and please continue coming in!
Bus Transportation
If your child uses our Bus Transportation services, please remember that the monthly fee is $75 one-way and $150 round trip. Please make arrangements with the front office for payment if you haven't already done so.
Uniforms
You need to contact Winning Concepts for all your uniform embroidery needs. Their phone number is 904-272-9784.